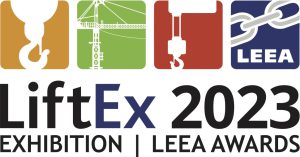 LiftEx 2023 is the unmissable global showcase for the Lifting Industry, taking place at the Exhibition Centre, Liverpool on 21-22 November 2023. The annual flagship event of LEEA (Lifting Equipment Engineers Association) is free to attend and registration is open now at: https://www.eventbrite.co.uk/e/liftex-2023-tickets-602657353367.
All kinds of operations across many sectors use a wide variety of cranes, hoists, platforms, cradles and their associated chains, ropes, slings and other tackle to lift goods during production and lineside support. Reliability leading to minimised downtime is the key to efficiency, but it is safety that is paramount in any lifting operation. One of the best ways operations can mitigate the risk of an inspection by Health and Safety authorities is to ensure that when procuring lifting equipment or supporting services, they look for the LEEA logo. This shows that the equipment or service provider is an Association member and has therefore undergone a rigorous auditing process to uphold LEEA's 'gold standard' and provide customers with the assurance of excellence.
Finding best practice at LiftEx
Celebrating its 18th year in 2023, LiftEx offers the best opportunity to find the LEEA logo on a whole host of lifting equipment, products and services from its member companies. They operate in a forward looking Lifting Industry that is always innovating, with constantly developing technologies – including AI, virtual reality simulation, condition and load monitoring, remote control and anti-collision systems – spreading throughout the sector to reduce risk from working at height.
The dedicated event addresses many different challenges, solutions, regulations and best practice advice under one roof. This makes LiftEx the ideal venue for anyone involved with, or responsible for, lifting equipment in the manufacturing sector to join over 1,500 industry professionals in catching up with suppliers and exploring their latest innovations, viewing demonstrations and gain valuable lifting knowledge across two days.
Expertise and industry insights will be shared through informative speaker sessions and specialty programmes designed to help visitors in their everyday role and delivered by the LEEA team and industry experts. Topics on the agenda include the latest in safety regulations, technology innovations, recruitment strategies and industry best practice. The event will also welcome careers advisors, teachers, universities, colleges and regional boards. They all make a vital contribution to the Lifting Equipment industry's sustainability by engaging with the next generation of talent and attracting them into the sector.
With CoreRFID, the provider of Lifting Inspection software and RFID technology, as Headline Sponsor of the event, joining other sponsors: Rope and Sling Specialists, Green Pin and Delta, this year promises to be the best LiftEx yet. Among almost 100 exhibitors on the show floor, over 20% will be appearing at LiftEx for the first time.
A show full of lifting innovation
On display will be a broad array of lifting equipment solutions from companies such as Atlas Winch & Hoist Services, Cromax, Delta Hoisting Equipment, Foster Cranes, George Taylor Lifting Gear, Green Pin (Royal Van Beest), Hird, JD Neuhaus, Mipromet, Modulift, Nautilus Hooks, Pinpoint Manufacturing, Rope and Sling Specialists (RSS), TTC Lifting, Tusk Lifting and Worlifts. Visitors interested in materials handling equipment will find, GGR Group, Lift Turn Move, Probst, Prolift Handling and Tracked Carriers.
Chains, ropes and accessories will be featured by companies including Bridon Bekaert, Codipro, European Management & Marine (EMM Corp), Ferryl, Hendrik Veder Group, Latch and Batchelor, Lift Turn Move, Lift-Tex Heavy Lift Slings, RUD Chains, Sahm Splice, Talurit and William Hackett Chains. There will be slings and rigging from Aberdeen Web, Crosby, Dolezych, Hendrik Veder Group, Petersen Stainless Rigging, PMS Industrie and Suhbo Industrial Co.
Exhibitors displaying height safety equipment include Guardian Fall, North Sea Lifting, RidgeGear, SafetyLiftinGear, Safehold, SpanSet, Tiger Lifting, Trans-Web and YOKE Industrial Corp. There will be load monitoring equipment from DLM, Load Monitoring Systems (LMS) and Red Rooster Lifting. A range of IT solutions will be shown from companies including CoreRFID, Formability, Onix Work, RiConnect and Tele Radio UK.
Stands featuring load moving and transport include Liftket UK. Test machinery can be seen from Structure-flex and there will be administrative services exhibited by IBS Industrial.
There will be organisations such as the Career Transition Partnership (CTP), the MoD's official provider of Armed Forces Resettlement for over 13,000 skilled and experienced individuals leave the military. The military trains and employs many personnel with direct experience of lifting engineering – think of swapping an engine out of an aircraft, or a tank, or changing a propellor shaft on a ship. Many service personnel therefore have the qualities craved by the Lifting Industry.
Through its Military Transition scheme, LEEA is connecting those transitioning from the armed forces into civilian life and their potential employers. Employers visiting LiftEx can find out how to access this pool of service leavers with a wide range of transferable skills.
Qualitrain will also be on hand to discuss training. LEEA itself will, of course, have its usual prominent stand for visitors to meet and engage with the Association's team.
A great networking experience
In addition to the traditional exhibition activities on offer, there will be plenty of time for members to socialise. For example, the night before the exhibition, there is a reception for LEEA members at Liverpool FC's world famous and legendary Anfield Stadium, with former players in attendance.
On the middle evening, 21 November 2023, there will be the fifth annual LEEA Awards ceremony, a prestigious event exclusively for members, where LEEA recognises and celebrates excellence. There are ten awards: five for individuals and five for teams, spread across several categories such as innovation, safety, sustainability, training, and personal development. There will be around 300 guests at the Rum Warehouse for the ceremony, which is hosted by special guest Jason Manford, so it's sure to be the best night out in Liverpool and the Lifting Industry's party of the year.
For more information on LiftEx, visit https://liftex.org/liftex-liverpool-2023. Register for a free ticket at: https://www.eventbrite.co.uk/e/liftex-2023-tickets-602657353367.