The ninth edition of Europe's largest showcase for the lifting, industrial and port handling, and heavy transport sectors welcomed its highest visitor and exhibitor numbers to date, including from international markets, and became the biggest ever event to be hosted at Piacenza Expo in Italy.
GIS, Europe's premier showcase for the lifting, industrial and port handling, and heavy transport sectors, marked a historic milestone at its ninth edition, held 5–7th October in Piacenza, Italy. The exhibition broke records across the board, gathering its largest-ever number of visitors and exhibitors in an electric atmosphere of innovation and collaboration.
The appetite for face-to-face interaction was palpable as more than 18,000 visitors flocked to the Piacenza Expo centre. This figure included a 44% increase in international attendees compared to the 2021 edition, underlining GIS's growing influence outside of Italy. Moreover, with a record 432 companies showcasing the latest equipment, components, and services, the exhibition space expanded to a sprawling 71,000m2 making it the largest ever at Piacenza Expo.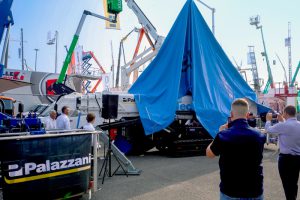 This exceptional event featured several machine premieres, such as the world's largest spider lift, the Palazzani TT2J58 with a 58 m working height, and the Magni DTB41RT telescopic boom platform, featuring an innovative stabilisation base with movable wheels. GIS 2023 also witnessed the Italian launches of the versatile and powerful Grove GRT8100-1 rough-terrain crane from Manitowoc and the Liebherr LTM 110-5.3 mobile crane, which is the first model to be equipped with the new LICCON3 crane control system.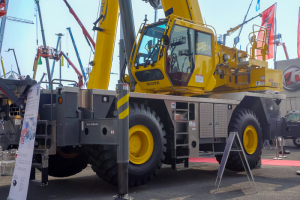 The decision to present these cutting-edge machines at GIS 2023 emphasises the event's pivotal roles in the lifting, industrial and port handling, and heavy transport markets. Equally significant was the opportunity to connect with industry peers, engage in meaningful discussions, and celebrate achievements. Throughout the three-day event, three prestigious awards ceremonies – the Italian Terminal and Logistic Awards (ITALA), the Italian Access Platform Awards (ITALPLATFORM), and the Italian Lifting & Transportation Awards (ILTA) – honoured noteworthy contributions to these industries.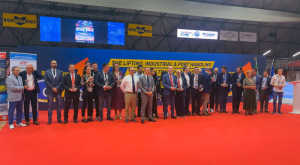 Moreover, the event featured seven enlightening seminars and panel discussions addressing critical industry challenges. Highlights included a rental forum hosted by Rental Blog and Sollevare, as well as a comprehensive discussion on operator training and qualifications organised by ESTA (the European association for abnormal road transport and mobile cranes.
It was not all work and no play, however. On Friday 6th October, GIS by Night provided a relaxed and enjoyable setting for exhibitors to connect with their customers and share great food, music, and entertainment.
Fabio Potestà, director of Mediapoint & Exhibitions, the company behind the event's organisation, expressed his satisfaction with GIS 2023's record-breaking success: "The numbers speak for themselves. We had a record number of exhibitors, an unprecedented exhibition space, and a remarkable turnout of visitors – especially qualified ones, which is very important for a B2B exhibition. Our shows are audited so these are real numbers that our exhibitors can trust. We also had more qualified visitors from the rest of the world, mainly Europe, which is important for our Italian exhibitors who are keen to export and can use GIS to network and grow internationally."
The next trade fair to be organised by Mediapoint & Exhibitions is GIC 2024, Europe's largest exhibition dedicated to the concrete and masonry industries, taking place 18–20th April 2024. GIC covers all aspects of the concrete industry from production, through construction using concrete, to demolition and recycling, showcasing the latest materials, technologies, and equipment. Like GIS 2023, GIC 2024 will also take place in Piacenza, Italy, and is expected to be bigger and more international than ever before. Details can be found at gic-expo.it.