ESTA used the recent GIS exhibition, held 5-7th October in Piacenza, Italy, as a forum to bring together key players in the lifting, industrial and port handling, and heavy transport sectors and discuss the pressing issue of how to enhance and standardise operator competency.
Improving operator skills and professionalism is a top priority in the lifting, industrial and port handling, and heavy transport sectors to ensure the safety not only of the operators but also other personnel on site and the general public. This mission is a cornerstone of ESTA, the European association for abnormal road transport and mobile cranes, which champions safer work practices and collaborates closely with equipment manufacturers to facilitate knowledge exchange and cooperation within the industry.
Emphasising the critical need for operator training improvements, Ton Klijn, Director of ESTA, said: "Not only in Europe but all over the world, 95% of accidents with cranes originate from the operator and not from the machine. That's why we believe operator training needs to be more robust."
ESTA recently seized the opportunity to promote this cause at GIS 2023, the largest European event dedicated to the lifting, industrial and port handling, and heavy transport sectors, held 5-7th October in Piacenza, Italy. With 432 exhibitors representing 500 brands and over 18,000 qualified visitors from around the world, this event supported ESTA to connect with key industry players and the broader community.
During GIS 2023, ESTA hosted a forum in collaboration with A.N.N.A., the Italian national association for crane and exceptional transport rental, to discuss the latest developments in operator training and qualification. Representing diverse perspectives, the panel included industry giant Liebherr, offering insights from a crane manufacturer's viewpoint, as well as the Italian Road Police and Italian Ministry of Labour.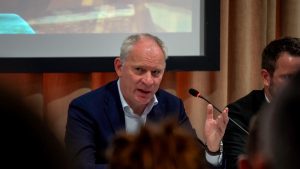 Paving the way for greater professionalism
ESTA Director Ton Klijn and ESTA President Fabio Belli opened the forum by presenting the association's ECOL 'European Crane Operator License' project, which establishes a standardised framework for the training and examination of crane operators under the European Standard EN 13000 for mobile cranes. Daniela Dal Col, President of A.N.N.A, meanwhile, lent her expertise to the discussion, underlining the advantages of the ECOL licensing system.
The need for ECOL emerged a decade ago when ESTA received stark warnings from manufacturers about the declining operator skills witnessed during crane handovers from the factory. What compounded the issue was as the glaring disparity in national laws and regulations across Europe, creating inconsistencies in operator knowledge and competencies. According to ESTA, crane operator training duration in Europe ranged from just 22 hours to two years.
In response to this pressing issue, an ESTA working group embarked on developing a comprehensive training and examination scheme in 2014. By 2018, the ECOL foundation was established, and pilot runs were conducted. The crowning moment came in December 2019 when ECOL received recognition from EQF (the European Qualifications Framework).
ECOL not only specifies the examination but also sets educational standards, records the experience of licensed operators, and enables site managers to verify the qualifications and experience of any crane operator entering their construction site or facility. This promotes higher levels of competence as well as heightening professionalism, resulting in enhanced safety, and efficiency.
As of 2023, ECOL is officially recognised in Belgium, Denmark, the Netherlands, Switzerland, and the Canadian province of British Columbia. This means that ECOL-qualified operators can work in these regions without the need for additional training or testing enabling labour mobility, which is a significant advantage amidst the backdrop of labour shortages. Mutual recognition discussions are now underway in Germany, Spain, and the Republic of Ireland.
The next step for ESTA is to apply the same approach to the operation of trailers with the introduction of ETOL 'European Trailer Operator Licence'. Astonishingly, as it stands, there are no requirements for operating trailers, save for being over 18 years of age and physically able to work the handles. This gap in regulation is what ETOL aims to address, ensuring that operators of hydraulic trailers meet defined standards of competence and safety.
The role of equipment manufacturers
Crane and trailer manufacturers also play a crucial role in elevating skills within the industry. Hence, Christoph Behmüller, Head of Training at crane manufacturer Liebherr, contributed to the forum at GIS 2023 by presenting the brand's own training initiatives. Recognising that while cranes can be engineered for maximum safety and that the ultimate key to safety lies with the operator, he said: "At Liebherr, as a manufacturer, we can change our machines to be as safe as possible, but we cannot change the operator. That means we have to do more to ensure crane operators are well educated."
To this end, Liebherr has established training centres across the globe, from Italy and Great Britain to South Africa, the USA, Brazil, and Australia, fostering hands-on learning. In addition, the brand has introduced an extensive e-learning platform, enabling operators to learn at their convenience, covering an array of topics including load charts and rigging procedures. This approach is further complemented by a library of video tutorials, catering to practical facets of the profession, all closely aligned with ESTA to ensure the training meets the required industry standards.
Fabio Potestà, Director of Mediapoint & Exhibitions, which organised GIS, expressed the significance of hosting the ESTA operator skills and qualification forum. "The magic of the GIS exhibition lies in its ability to bring the industry together, foster networking connections, help participants stay abreast of the latest industry trends, and nurture collaboration among key stakeholders. It was an honour for GIS to host the ESTA operator skills and qualification forum and provide a platform for a pivotal discussion that promises to usher in significant safety and efficiency enhancements for the betterment of the industry and society at large."
Details on the European Crane Operator Licence (ECOL) or European Trailer Operator Licence (ETOL) can be found at www.ecol-esta.eu while further information on ESTA in general can be found at estaeurope.eu.