Rope and Sling Specialists Ltd. (RSS) welcomed two UK Members of Parliament (MPs) to different facilities recently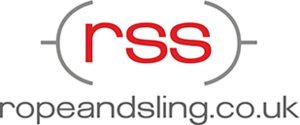 First, the lifting and rigging equipment and services provider hosted Andrew Mitchell, MP for Sutton Coldfield, at its Minworth, West Midlands depot, before Pyle, South Wales headquarters opened its doors to Carolyn Harris, MP for Swansea East.
The visits were facilitated by the HS2 high-speed railway, which is showcasing companies around the UK that are playing a vital role in the construction of the major infrastructure project. Minworth and Pyle are just two of RSS's 10 national locations, which combine to deliver radio-frequency identification (RFID)-chipped shackles, hooks, slings, and harnesses to HS2, in addition to periodic Lifting Operations and Lifting Equipment Regulations 1998 (LOLER) inspections and other services.
RSS is an important supplier within a wider supply chain that includes approx. 2,500 companies, most of which are based in the UK and represent the small and medium-sized enterprise (SME) community. It is a network of businesses that exemplifies the economic impact of a project that goes far beyond the route of the railway—reaching across the nation to impact jobs and skills, while strengthening the businesses it relies on daily at multiple points of use.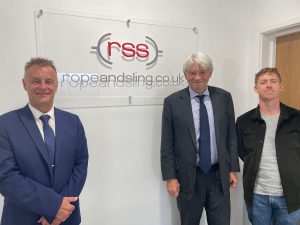 Steve Hutin, managing director at RSS, said: "To welcome the Rt. Hon. Andrew Mitchell, who holds the posts of Minister of State [Foreign, Commonwealth and Development Office] and Minister for Development and Africa, in addition to Rt. Hon. Carolyn Harris, from the other side of the political benches, to our company demonstrates the scale of HS2 and the opportunities it delivers, both in terms of direct revenue, but also raising our profile as a business, and that of the lifting sector."
It is an industry that has welcomed much interest from the nation's policy and decision makers recently, following the Lifting Equipment Engineers Association's (LEEA) hosting of an event at UK Parliament on the eve of July's Global Lifting Awareness Day, celebrated at the #GLAD2023 hashtag on social media.
Earlier this year, RSS was presented with a Values Award by the Skanska, Costain and STRABAG (SCS) joint venture, currently delivering the HS2 Main Works Civil Contract for Phase 1 of the route—the HS2 London tunnels.
Hutin added: "The project centres on operation of TBMs [tunnel-boring machines], which must be working 24-hours-a-day. Marking milestones and welcoming MPs to our business isn't about celebrating what a single company does per se, but more elevates the importance of our industry and its impact on the wider economy."